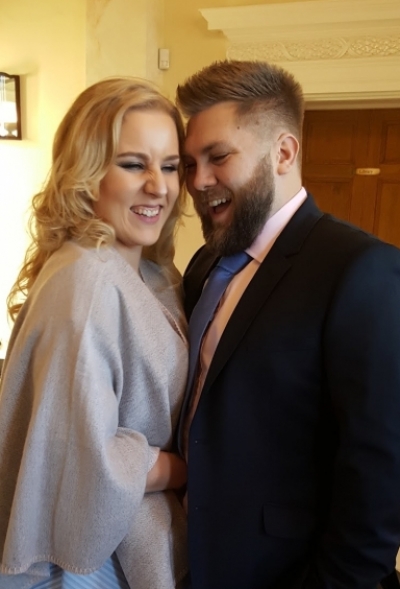 That phone call....
Unfortunately for Chantelle, she took Chris' call, and from then on Chris would call Chantelle whenever possible. Officially this was always business related, although it also helped out with Chris' call stats, and over time Chantelle and Chris got to know each other.

Now Chris being the salesman he is will tell you that he wooed Chantelle over time. However, Chris is a salesman and so this is a lie!
Chris was actually a drunken mess one night whilst returning from a night out and decided to give Chantelle a message on Facebook.

Fast forward and in October 2015, after months of driving up and down half the motorways in England to see each other every other weekend, Chantelle agreed to move in with Chris. This was difficult for Chantelle, as not only was she living with a "boy" for the first time, but was leaving her friends and family behind and starting a new job all at once. The hardest part though was experiencing more than 3 days of sunshine a year and how sun cream worked, trying to be understood by "southerners" and trying to work out what time "tea" is..

The proposal...
A month after moving in, and Chris wanted to do something special for Chantelle's birthday so arranged to surprise her by taking her somewhere she'd wanted to go for a while, The Shard in London.

Chris arranged a weekend away, and after originally telling her that they were staying at a Holiday Inn, took her to The Hilton in London bridge, opposite the Shard, took her to Oxford street shopping, Harrold's for lunch and then The Shard for an evening meal.

After a straight vodka, and possible the most expensive meal Chris has ever eaten (and the smallest), he dropped to one knee and asked Chantelle if she wanted to spend the rest of her life with him. Chantelle eventually, after 15 minutes crying, said "yes," and we celebrated with Champagne, looking out over the lights of London.
Chantelle then called Rossendale to update the town...